Surface-mounting RF receiver with 2 channels, 12-24V AC or DC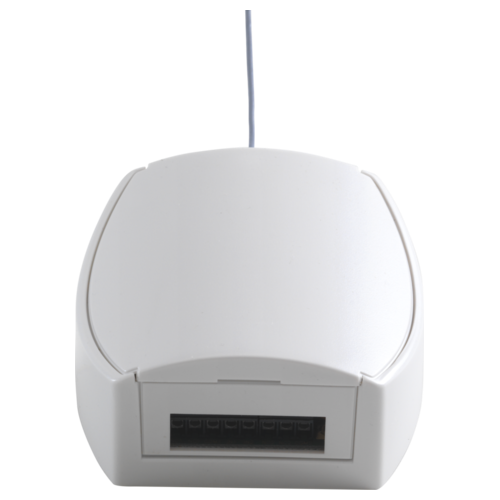 Description
This surface-mounting receiver has 4 operating modes. You can connect one external impulse push button per channel. You may only use the device for switching low-voltage loads. The device has the following applications:
ON/OFF via a 2-button function;
ON when pressed and held, via push button function;
control of roller blinds or shutters via 2-button function.
The roller blind and shutter function may only be supplied with direct current (DC).
Specification description
Surface-mounting RF receiver with 2 channels, 12-24V AC or DC
Possible applications include: ON/OFF via a 2-button function, push-button functions 2-button roller blind or shutter function
Mostly in combination with sun blinds, ventilation or window decoration
power supply voltage: 12-24 Vac or Vdc
maximum contact load: AC - 24V, 1 A (24 VA); DC - 30 V, 1 A (30 W)
Not compatible with the wireless bridge
Communication protocol: Easywave
Operating frequency: 0.8683 GHz
Dimensions (HxWxD): 63 x 70 x 35 mm
Marking: CE
Select a product below to view related articles, variants or accessories: