Mini hand-held RF transmitter with 1 channel and 4 control buttons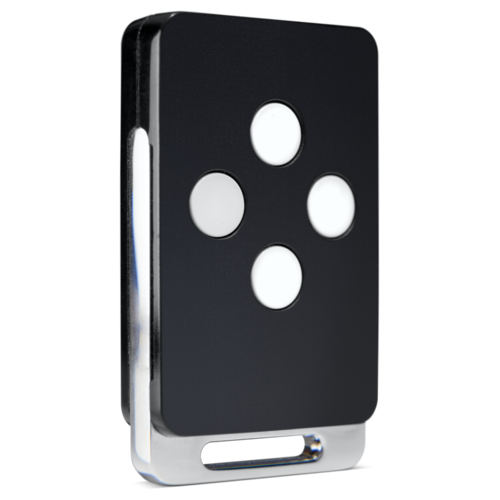 Description
This mini transmitter has 4 functional control buttons. You can use it in combination with all Niko receivers. The operation status is indicated with LEDs. The device is especially well suited for the care sector (e.g. alarm function) or in homes. The battery is supplied with the transmitter.
Technical characteristics:
power supply voltage: battery, 3V DC (supplied);
transmission range: max. 30 meters indoors, 100 meters in open spaces;
dimensions: L62xW37xD11mm
frequenty band: 868,0 – 868,6MHz
maximum power output: 0,60 dBm
Specification description
Mini hand-held RF transmitter with 1 channel and 4 control buttons
Mini transmitter with RF technology for wireless remote control of Niko RF receivers on frequency 868.3MHz. Four channels. Each channel can control one or more Niko RF receivers. Dimensions: 62 x 37 x 11mm. Red LED: indication of operation and check for the battery. Max. transmission range in a building 30 m; in open field: 100 m. Modulation type: FSK. Battery type: 3V CR2032. In accordance with Belgian and European legislation: CE marked. This product complies with all applicable European directives and regulations. For radio equipment, Niko nv declares that it complies with Directive 2014/53/EU. May be used in all European member states. Manual is included.
Communication protocol: Easywave
Weight: 28 g
Dimensions (HxWxD): 61.6 x 37.2 x 10.9 mm
Marking: CE
Select a product below to view related articles, variants or accessories: