Universal modular dimmer 600VA (3A)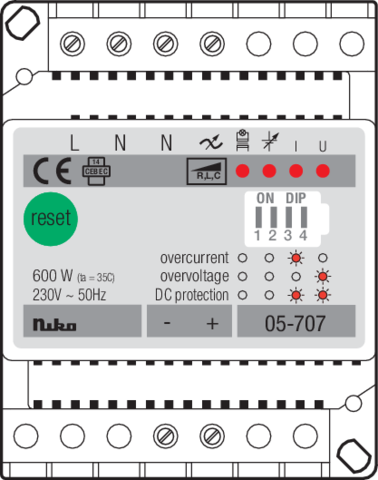 Article not available
Description
This dimmer can be used for:
incandescent lamps;
230V halogen lamps;
all types of low-voltage halogen lamps.
You activate it with a rocker switch. You control the device using:
an N.O. push button without voltage;
0-10V control;
1-10V current control;
directly on the device.
You can connect a maximum of 30 N.O. push buttons in parallel. The dimmer is used with or without the memory function. The appliance is in conformity with the European directive for EMC and safety EN60669-2-1. Technical characteristics:
230V AC ± 10 %, 50Hz ± 1Hz;
incandescent lamps: 600W;
230V halogen: 600W;
ferromagnetic transformer: 600VA;
toroidal core transformer: 600VA;
electronic transformer: 600VA;
minimal load: 35W / 35VA;
hum-free;
overload protection with automatic reset function
electronic short-circuit protection;
PLC filter for interference via the mains
2 x 1.5 mm² or 1 X 2.5 mm²;
ambient temperature: 35°C;
dimensions DIN 4 modules: H89xW70xD54.5mm.