Every home that interior designer Victoria Maria Geyer touches turns into an eclectic, colourful oasis. Hailing from Brussels with German roots, she puts her heart and soul into experimenting with colour, Seventies influences, fun prints and vintage gems, mixing & matching style periods here and there as though it's nothing special. All this with a blueprint of consistency and storytelling. She is now sharing her style and switching secrets with Niko, so you too can dare to take some risqué decisions in your interior.
How do you create & curate an eclectic interior?
"I'm a big fan of mixing different influences and styles, but of course there are some styles that go better together than others. To me, eclectic interiors don't involve specific rules you need to follow – it's more about a feeling."
"When I'm designing an interior, I work from one specific focus point, varying from a piece of furniture to a colour or a particular object. The rest of my interior story then unfolds from that focus point.
If you have a hunch or are in love with a particular colour or piece of furniture, then start with that and build your eclectic interior around it."
"Aside from that, I always take a consistent approach to my projects. There's always a central thread running through the home, even if it does look very eclectic or is filled with a range of style periods and elements. There's a story behind every eclectic interior that starts at the entrance and ends on the last floor."
TIP: Make a tangible mood board in advance so you can visualise and embrace the interior's vibe.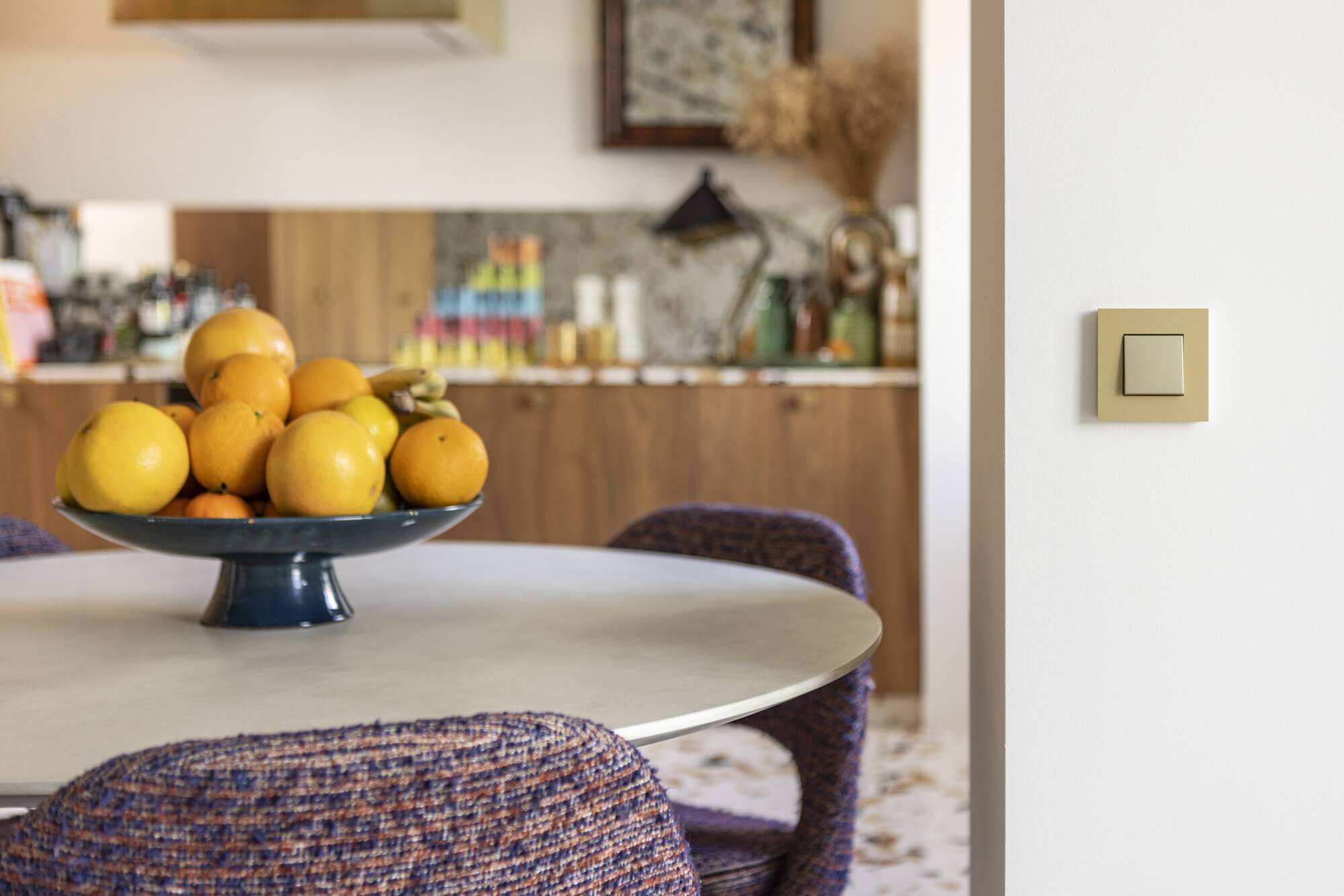 Standing out with switches in a striking interior?
"Switches have become part of our interior essentials. It's all about the importance people place on details. For me, switches are in the same category as doors, handles, taps, etc. These details make or break an interior. So when it comes to those details, it's important that you choose the right material and the right colour."
"Personally, I wouldn't go for a coloured switch in an eclectic interior. In an eclectic interior that's fully of personality, I'd choose metallic finishings. Whether it's brass, aluminium, steel or stainless steel, every home has some metallic accents or material.
So, I'd mimic the majority of the metal accents in the home to create some consistency amid all the different styles and accents in an eclectic interior. If a home is themed around messing for the furniture buttons and the doorknobs, I suggest gold switches; if it's stainless steel, then go for stainless steel."
Victoria Maria's favourites?
"When styling metallic finishings, I look at how warm or cool the interior is. If a home has more cooler nuances such as blue and green, I'd choose the Niko Intense sterling. If a home contains many beige and brown colours, I'd never think of finishing with silver. Then I'd choose the Niko Pure alu gold.
"The Niko Intense sterling is a good fit for a home where all the accessories are stainless steel or silver. If someone's chosen silver over brass or copper, that's a statement in itself. That means the home might contain more cool nuances such as blue and green, and makes less use of warm colours."
"The Niko Pure alu gold is a real statement piece. It's very on-trend and works perfectly if all the other accents in the home are in brass."
TIP: Try to imitate the other brass accents in your home so as not to end up with six different kinds of gold at home.
"The Niko Intense bronze sits between the silver and gold switch. It's a good combination if you've integrated a lot of black shades into your home."
"I think the Niko Pure natural red is the most daring of all the switches. You can style it traditionally in a chalet with a lot of Christmas shades or in a more modern interior as a contemporary eye-catcher."
Informacje o produkcie
Te produkty będą dostępne wkrótce. Aby uzyskać więcej informacji, skontaktuj się z nami.
Wykończenia Niko
Poznaj nasze materiały wykończeniowe
Znajdź dealera
Produkty Niko można kupić w wielu punktach sprzedaży