Smart double switch, screw fixing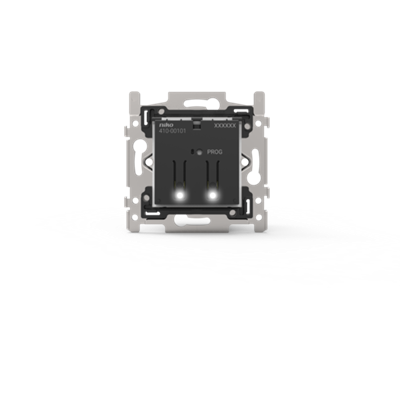 Description
Mechanism for a smart double switch, with screw fixing. A finishing set and flush surround plate in the colour of your choice must be ordered separately.
Specification description
Smart double switch, screw fixing. When fixing in a flush-mounting box screws should be used. The flush-mounting frame is made from 1 mm-thick metal which is galvanized on all sides after cutting, even on the cut edges. On the horizontal and vertical axes, the flush-mounting frame has 4 grooves for screw mounting in flush-mounting boxes. These grooves have a screw aperture of 7 mm. For mounting on panels, the flush-mounting frame is equipped with 4 screw holes (indicated by a screw symbol) with a diameter of 3 mm. The middle of the flush-mounting frame is indicated (chalk line, laser, ..) in both the horizontal and vertical directions, so that mounting one or more mechanisms can be carried out quickly and easily.
LED colour: white
Protection degree: The combination of a mechanism, a central plate and a flush surround plate has a protection degree of IP41
Flush-mounting depth: 29.5 mm
Dimensions (HxWxD): 712 x 732 x 415 mm
Marking: CE
The article above is part of this product: