Single-pole, 1-channel, flush-mounting RF receiver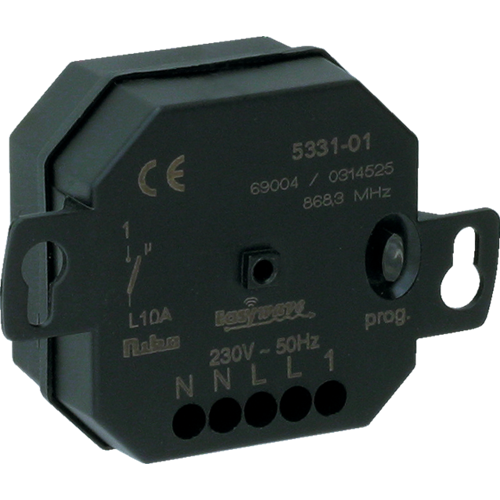 Description
This mini-receiver is used for lighting control. It is very easy to mount due to its compact dimensions. It has a 1-pole, 10A/ 230V AC switch contact. The device works with both wall-mounted and hand-held transmitters in 1- or 2-button mode. You can choose from 3 modes for the on/off functions.
Technical characteristics:
dimensions: L70xH49xD29mm.
Specification description
Single-pole, 1-channel, flush-mounting RF receiver
Mini receiver for flush mounting, controlled wirelessly via radio frequency (868.3 MHz). Provided with one potential-free switching contact 10 A, 230 V 50 Hz. Choose from 3 modes for the on/off functions. Max. 32 transmitters per receiver. min. reception range in a building: 30 m; in open field 100 m. Dimensions: 49 x 70 x 29 mm. Power supply: 230 V 50 Hz. Modulation type: FSK. In accordance with Belgian and European legislation: CE marked. This product complies with all applicable European directives and regulations. For radio equipment, Niko nv declares that it complies with Directive 2014/53/EU. May be used in all European member states. Manual is included.
Not compatible with the wireless bridge
Communication protocol: Easywave®
Marking: CE
The article above is part of this product: