Modular, 1-channel RF receiver
Available until end of stock.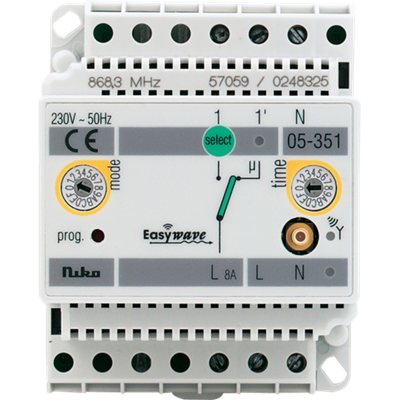 Description
This 1-channel receiver for DIN-rail mounting is controlled wirelessly via radio frequency. It has a 10A / 230V potential-free changeover contact and a connection for an external antenna (05-309). You can choose from 5 modes for the on/off functions. The control occurs via 1 or 2 buttons. You set the operating time to between 0 and 3 seconds and the switch-off time between 0 and 120 minutes. You can only connect the device to 1 phase. The contact may not be used for circuits with safety extra-low voltage (SELV). The modular dimmers 05-703, 05-704, 05-707 and 05-728 can be used in combination with this receiver. All dimmers must receive their power from the same phase.
Technical characteristics:
The article above is part of this product: