Finishing set with 3 cinch audio connections, also for flush mounting in trunking systems, White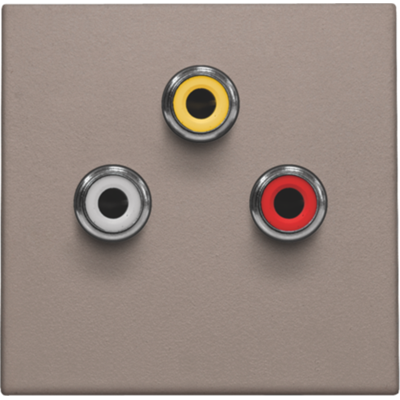 Description
Finishing set with three cinch audio connections. greige
Specification description
Finishing set with 3 cinch audio connections, also for flush mounting in trunking systems, White. The central plate is clicked into a 45 x 45 mm flush-mounting frame and must always be mounted with the 'TOP arrow' (indelibly imprinted on the rear of the central plate) pointing upwards. The central plate is equipped with a white, a red and a yellow cinch connector which are connected along the rear with three connector blocks. Each connector block is equipped with cage clamps with permanent screws. The screws have a slotted screwhead (slot 0.6 x 3.5mm). Moreover, every screw is provided with a screwdriver slot that prevents the screwdriver from sliding off the screwhead. To dismount simply pull the central plate off the base.
Material central plate: The central plate is enamelled and made of rigid PC and ASA.
Colour: greige (coloured in mass, approximately NCS S5005-Y50R).
The plastic parts of the central plate are self-extinguishing (comply with a filament test of 650°C) and are halogen-free.
The article above is part of this product: