Splashproof bike charging station 16 A/250 Vac with side earthing, shutters and with plug-in terminals, white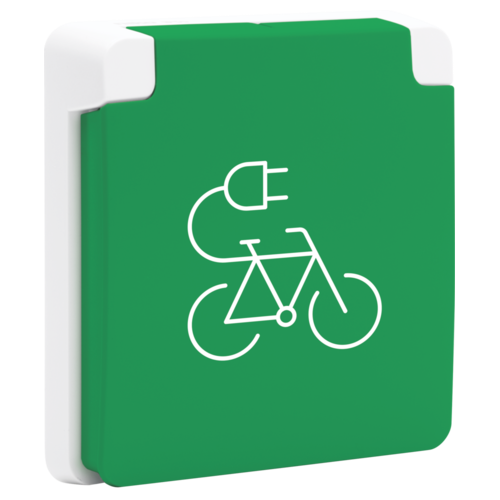 Description
The Niko Hydro products are not suitable for use in ammonia rich environments (e.g. pig houses).
Specification description
Splashproof bike charging station 16 A/250 Vac with side earthing, shutters and with plug-in terminals, white. Protection lid: Each socket outlet is covered entirely by a hinged protection cap which opens upward. A spring and a hook-fastener keep the protection cap tightly closed.
Colour: The base material is coloured in mass, white (RAL 9010).
Sealing: The cover has an integral closure and is hermetically sealed onto the appropriate box.
Number of mechanisms: 1
Material base

ureumformaldehyde (UF) with high heat resistance
white RAL9010 (approximately)

Material finishing: The box is made of impact-resistant, dust-preventing, halogen-free and self-extinguishing polypropylene (UL94-V2/1.6 mm). The protection cap is made of rigid ABS.
Material earthing: side earthing in high quality brass
Wire connection

contact buses fitted with plug-in terminals for clamping the wires
manual release or release with a screwdriver from the front side

Wire capacity

all connection terminals at the top side of the base
up to 4 x 2.5 mm² wire per terminal

Cable space

15.7 mm wiring space under the mechanism
mechanism is held by 2 laterally positioned holders in the box
a snap connector holds the wired mechanism in place

Stripping length

14 mm stripping length
indelibly indicated at the rear side: stripping length

Lighting element

the base is provided with 2 rectangular recesses for a lighting unit
left recess (front view): a lighting unit with wires or an automatic lighting unit can be clicked in
rear side: round recesses for direct contact of the automatic lighting unit with the mechanism

Surface-mounting box: The function is designed to be mounted in a splashproof mounting box. The function has an integral closure and is hermetically sealed onto the appropriate box (to be ordered separately).
Ambient temperature: -25 – +55 °C
Protection degree: IP55 for the combination of a socket outlet and a splashproof mounting box
Impact resistance: The combination of a Hydro mechanism and a flush- or surface-mounting box has an impact resistance of IK07 with a minimum temperature of -25 °C and a maximum temperature of 55 °C
Certification marks: KEMA, ÖVE, SEMKO
Marking: CE
The article above is part of this product: