2 RJ45 connections UTP cat. 5E, flat model
Incl. adapter 9.1 and 2 connectors
Product details
This product consists of several components. Below you will find an overview of all the component parts.

2 RJ45 connections UTP cat. 5E, flat model, incl. base 60 x 71 mm with claw fixing

This mechanism with 2 RJ45 connection points UTP cat. 5E, flat model, is used to make a network connection with 2 devices for telephone, Ethernet, IP or internet applications.

All connection points of the mechanism are connected in a star configuration to the central connection cabinet using a cable of the same performance type.

The base has internal dimensions of 45 x 45 mm and external dimensions of 60 x 71 mm and is equipped with claw fixing. A finishing set in the colour of your choice must be ordered separately.

– simple and quick assembly of one or more mechanisms by the indication (chalk line, laser, etc.) of the centre of the flush-mounting frame

– vertical coupling centre-to-centre distance 60 mm by sliding several bases into each other, they lock themselves automatically

– vertical coupling centre-to-centre distance 71 mm using pre-formed lips at the bottom, by folding the lips downwards over a length of 1 mm, the bases support each other and the centre-to-centre distance is guaranteed.

– horizontal connection of multiple bases is quick and perfect thanks to the folded-up dovetails on the left and right sides

– extra robustness due to the folded-up edges on the outside of the base and the continuation into the inside of the base

2 RJ45 connections UTP cat. 5E, flat model, incl. base 60 x 71 mm with screw fixing

This mechanism with 2 RJ45 connection points UTP cat. 5E, flat model, is used to make a network connection with 2 devices for telephone, Ethernet, IP or internet applications.

All connection points of the mechanism are connected in a star configuration to the central connection cabinet using a cable of the same performance type.

The base has internal dimensions of 45 x 45 mm and external dimensions of 60 x 71 mm and is equipped with screw fixing. A finishing set in the colour of your choice must be ordered separately.

– simple and quick assembly of one or more mechanisms by the indication (chalk line, laser, etc.) of the centre of the flush-mounting frame

– vertical coupling centre-to-centre distance 60 mm by sliding several bases into each other, they lock themselves automatically

– vertical coupling centre-to-centre distance 71 mm using pre-formed lips at the bottom, by folding the lips downwards over a length of 1 mm, the bases support each other and the centre-to-centre distance is guaranteed.

– horizontal connection of multiple bases is quick and perfect thanks to the folded-up dovetails on the left and right sides

– extra robustness due to the folded-up edges on the outside of the base and the continuation into the inside of the base

2 RJ45 connections UTP cat. 5E, flat model, incl. base 71 x 71 mm with screw fixing

This mechanism with 2 RJ45 connection points UTP cat. 5E, flat model, is used to make a network connection with 2 devices for telephone, Ethernet, IP or internet applications.

All connection points of the mechanism are connected in a star configuration to the central connection cabinet using a cable of the same performance type.

The base has internal dimensions of 45 x 45 mm and external dimensions of 71 x 71 mm and is equipped with screw fixing. A finishing set in the colour of your choice must be ordered separately.

– simple and quick assembly of one or more mechanisms by the indication (chalk line, laser, etc.) of the centre of the flush-mounting frame

– vertical coupling centre-to-centre distance 60 mm by sliding several bases into each other, they lock themselves automatically

– vertical coupling centre-to-centre distance 71 mm using pre-formed lips at the bottom, by folding the lips downwards over a length of 1 mm, the bases support each other and the centre-to-centre distance is guaranteed.

– horizontal connection of multiple bases is quick and perfect thanks to the folded-up dovetails on the left and right sides

– extra robustness due to the folded-up edges on the outside of the base and the continuation into the inside of the base

Central plate data 2x RJ, cream

Central plate for 2 RJ outlets, flat model. The central plate has a transparent text field to which you can easily add text or icons. Finishing colour: cream.

Niko has already created this product for you. We have combined several articles into one finished product, which is available in different variations.

2 RJ45 connections UTP cat. 5E, flat model, incl. base 60 x 71 mm with claw fixing and finishing set, cream

Compound socket outlet (base and finishing set) with 2 RJ45 connection points UTP cat. 5E to create a network connection with 2 appliances for telephone, Ethernet, IP or internet applications.

All connection points of the mechanism are connected in a star configuration to the central connection cabinet using a cable of the same performance type. The base has internal dimensions of 45 x 45 mm and external dimensions of 60 x 71 mm and is equipped with claw fixing.

Finishing colour: cream

2 RJ45 connections UTP cat. 5E, flat model, incl. base 60 x 71 mm with screw fixing and finishing set, cream

Compound socket outlet (base and finishing set) with 2 RJ45 connection points UTP cat. 5E to create a network connection with 2 appliances for telephone, Ethernet, IP or internet applications.

All connection points of the mechanism are connected in a star configuration to the central connection cabinet using a cable of the same performance type. The base has internal dimensions of 45 x 45 mm and external dimensions of 60 x 71 mm and is equipped with screw fixing.

Finishing colour: cream

2 RJ45 connections UTP cat. 5E, flat model, incl. base 71 x 71 mm with screw fixing and finishing set, cream

Compound socket outlet (base and finishing set) with 2 RJ45 connection points UTP cat. 5E to create a network connection with 2 appliances for telephone, Ethernet, IP or internet applications.

Each connection point in the socket outlet is connected in a star configuration to the central connection cabinet using a cable of the same performance type. The base has internal dimensions of 45 x 45 mm and external dimensions of 71 x 71 mm and is equipped with screw fixing.

Finishing colour: cream
Accessories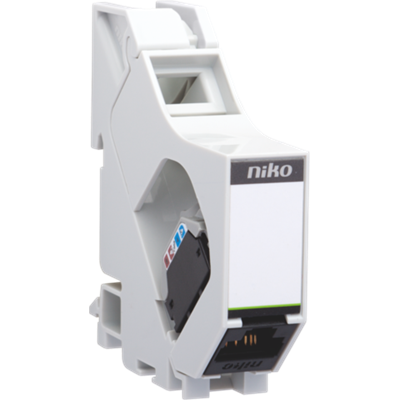 DIN-rail module with unshielded RJ45 connector UTP cat. 5E, for the central mounting of an RJ connection point in the connection cabinet
This DIN-rail module with unshielded RJ45 connector UTP cat. 5E is used for the central mounting of an RJ connection point in the connection cabinet.
This connection point is used to make a network connection with 1 device for telephone, Ethernet, IP or internet applications.
The DIN connector is connected in a star configuration to the mechanism using a cable of the same performance type.
This provides a central overview of all connection points throughout the entire residence.
Specification description
DIN-rail module with unshielded RJ45 connector UTP cat. 5E, for the central mounting of an RJ connection point in the connection cabinet
Protection degree: IP41 for the combination of a mechanism, central plate and faceplate
Impact resistance: The combination of a mechanism, a central plate and a faceplate has an impact-resistance of IK06
Marking: CE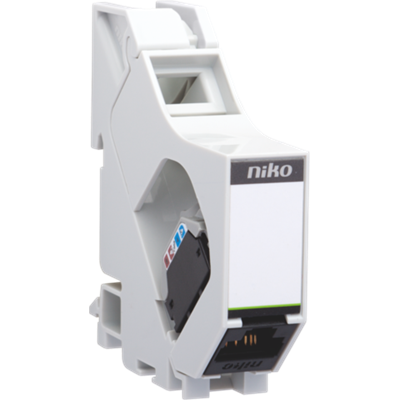 Din rail connectors
includes DIN-rail adapter and the connector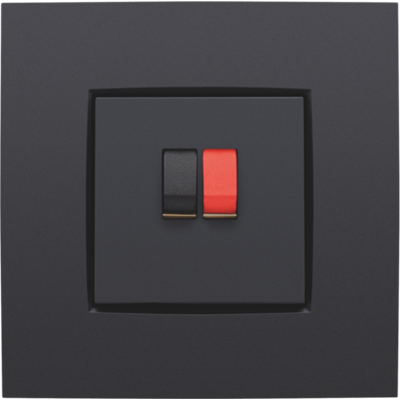 Single loudspeaker connection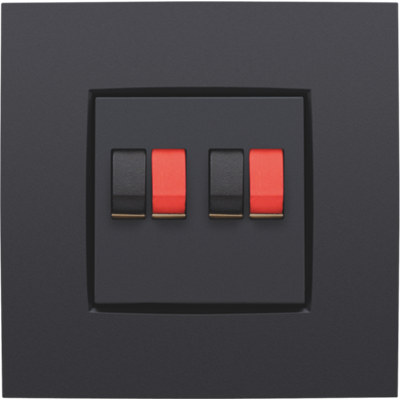 Double loudspeaker connection