Outdoor motion detector, 180°, Niko Home Control, 16 m, with orientable lens
This motion detector is suitable for use on driveways, on outdoor patios, in garden areas or in garages. The detector is equipped with an integrated light sensor. The sensor can be rotated horizontally within a 25° angle to modify the direction of detection. If you do not want the motion detector to detect any motion within a certain section of the detection area, you cover the sensor lens using the cover cap supplied. Niko Home Control supplies power to the motion detector. No additional power supply is required.
Product details
This product consists of several components. Below you will find an overview of all the component parts.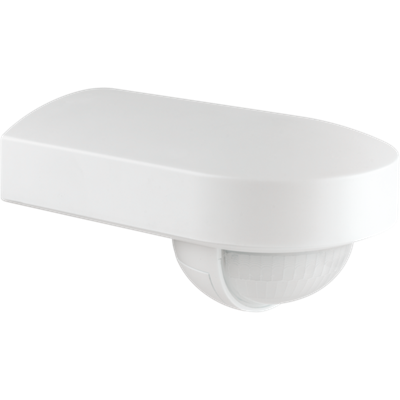 Outdoor motion detector 180°, 16 m, Niko Home Control, with orientable lens, white
This motion detector is suitable for outdoor use, for example, along the driveway, on the terrace or in the garden. It is also equipped with a built-in light sensor. You aim the motion detector wherever you wish and partition the detection area using a cover mask. The Niko Home Control system supplies power to the device. Finishing colour: white
Specification description
Outdoor motion detector 180°, 16 m, Niko Home Control, with orientable lens, white.
Detector technology: PIR
Input voltage: 26 Vdc (SELV, safety extra-low voltage)
Detector output: 26 V
Light intensity range: 5 lux – , ∞
Switch-off delay: 8 s – 30 min
Detection angle: 180 °
Detection range (PIR): ø 16 m from a height of 3 m
Ambient temperature: -20 – +45 °C
Mounting method: surface mounting
Mounting height: 2.5 m
Dimensions (HxWxD): 70 x 90 x 130 mm
Weight: 164 g
Protection degree: IP54
Marking: CE
Accessories
Mounting brace for outdoor motion detector, white
You can fasten an outdoor motion detector to a ceiling with this mounting bracket (white).
Specification description
Mounting brace for outdoor motion detector, white
Niko mounting bracket for ceiling mounting of Niko outdoor motion detector 350-20050. Coulour: White.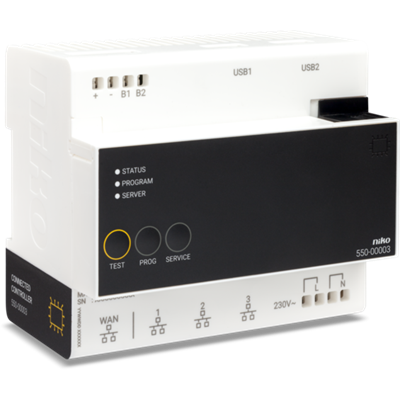 Connected controller for Niko Home Control II
The connected controller is the central module of every Niko Home Control installation for bus wiring. This module contains firmware that can only be programmed with the Niko Home Control programming software 2.1.1 or higher. It covers all basic functions on which a Niko Home Control installation is built. The basic functions include: • The intelligence directing the logic to the installation. Through the configuration software, the logic is saved locally on the controller. • The power supply module providing an input voltage of 26 V to the bus, the cabinet modules and the controls. Depending on the size of the installation, separate power supply modules can be added. • The connection to Niko Home Control IP devices such as touchscreens and external video units. A built-in router allows the user to connect up to 3 devices directly to the controller. With an extra switch, this number can be increased. • The connection to the internet. This enables the user to control the installation both indoors and outdoors (via mobile networks such as 3G, 4G, GPRS or Wi-Fi hotspot) using mobile devices (smartphones and tablets with iOS or Android). The module has a TEST button to verify the proper functioning and status of all other modules. The SERVICE button allows you to perform waiting Niko upgrades. Each installation must consist of one connected controller. After registration on https://mynikohomecontrol.niko.eu, your installation is connected, enabling control through the app via your smartphone and tablet, and you can enjoy the Niko services for upgrade or diagnosis of the installation.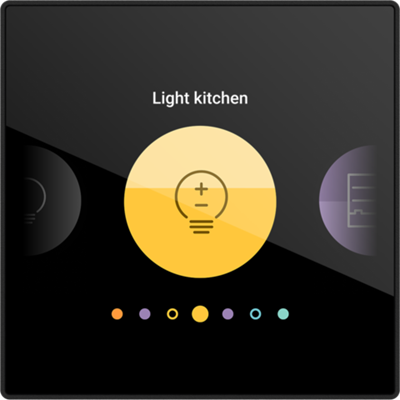 Digital black, connected customisable control screen for Niko Home Control, 24 V
Digital black is a completely customisable control screen for Niko Home Control with an extremely user-friendly interface featuring clear symbols. The screen is automatically activated when your hand comes near. That way, you can switch or dim your lights, set scenes, set ventilation modes, adjust blinds and sunblinds to the desired position, in one operation. In short, all possible Niko Home Control control types are available. As this Digital black 24V variant is equipped with a temperature sensor and algorithm, it can be programmed as a zone-thermostat when linked to a Niko Home Control heating cooling module (ref. 550-00150) or switching module (ref. 550-00103 or 550-00106) programmed for electrical heating. Do you have extra thermostats (550-1305x) or an active connection with one of our heating partners? Then you can easily set the temperature with the Digital black. When the Digital black is used as a thermostat, you define the set points and week programs in the Niko Home app. With the Niko Home app not only can you choose which controls are displayed or where they are displayed on the screen, but also the way you navigate through your control screens. You can download this app for free in the app store or play store. The screen can be easily mounted in any standard flush-mounting box using the familiar claw or screw fixing and is powered by a separate 24V DC supply (e.g. 340-00050). The screen communicates via your wireless home network with the rest of your Niko Home Control system. You need an active internet connection to activate the screen. This internet connection ensures that your screen and Niko Home Control installation are always up-to-date, and have the most recent functionalities.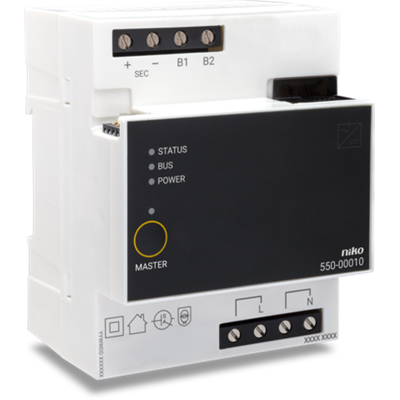 Power supply
The power supply, in combination with the connected controller, provides an extra input voltage of 26 V to the bus, modules and controls. An extra power supply is only necessary in installations for which the power of the built-in power supply of the connected controller is insufficient. Up to 2 extra power supplies can be connected to installations with a connected controller. The MASTER button is not used, as the built-in power supply of the connected controller is always the master. For more information on the required number of power supplies, you can consult the installation manual.