Connected double switch, 2 x 10 A (max. 16 A in total) 71 x 71 mm, screw fixing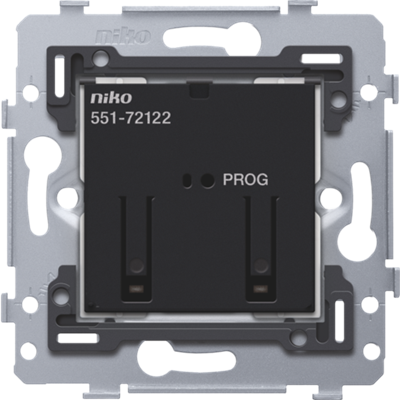 Description
The connected double switch has two switching contacts to switch lighting. It contains a transmitter and receiver that can communicate wirelessly with the wireless smart hub for Niko Home Control.
You can use the connected double switch to replace a conventional switch. It is equipped with two extension terminals so that, in combination with a conventional push button, it can easily replace multiway or intermediate switching. The connected double switch can switch its own contacts.
Once the wireless smart hub for Niko Home Control has been added, it is possible to configure additional functionalities with the Niko Home Control programming software. That way, it is possible to connect these in a mood or all-off function and much more.
It is possible to disconnect the control from its built-in contacts. That way, you have complete flexibility to configure the switching contact and the controls separately via the programming software.
Specification description
Connected double switch, 2 x 10 A (max. 16 A in total) 71 x 71 mm, screw fixing. All connection terminals can contain up to 2 x 2.5 mm² of wire. When fixing in a flush-mounting box screws should be used. The base is equipped on all sides with folded-up dovetails, allowing for both vertical and horizontal coupling (centre-to-centre distance of 71 x 71 mm) of several bases to be carried out quickly and perfectly. The folded-up edges on the outside of the base and their continuation to the inside ensure additional robustness.
Power supply: 230 Vac (L- + N-wire required)
Protocol: proprietary
Mounting method: wall mounting
Mounting height: 110 - 120 cm
Modification of settings: Niko Home Control programming software (requires smart hub 552-00001)
Maximum range (from switch to smart hub): 30 m
Operating frequency: 869,05 Mhz
Maximum frequency power: 6 dBm
LED colour: white
Protection degree: IP20
Flush-mounting depth: 40 mm
Ambient temperature: 0 – +40 °C
Dimensions (HxWxD): 71,5 x 73 x 40 mm
Marking: CE
The article above is part of this product: