Universal dimmer 2760 VA (12 A)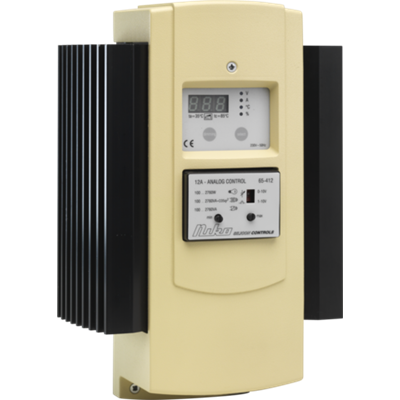 Dimmer for incandescent lamps, 230 V halogen lamps and all types of low-voltage halogen lamps. Control via an NO push button, control without voltage, 0-10 V control, 1-10 V current control or directly on the device. Up to 30 NO push buttons in parallel. Use with or without memory function. Minimum dimming level adjustable between 0 and 30% and maximum dimming level between 50 and 100%. Indication LEDs for the operation and feedback on errors. Display indication of voltage, current, temperature and protection status. In compliance with the European directives for EMC and safety EN60669-2-1.
Product details
This product consists of several components. Below you will find an overview of all the component parts.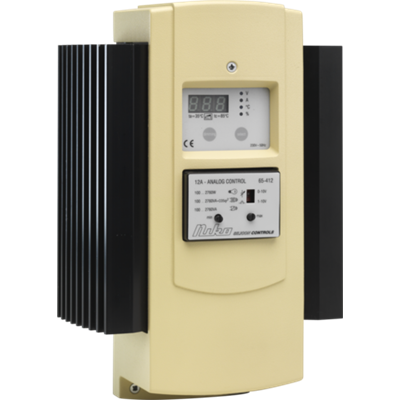 65-412
Available until 30/06/2019 and afterwards until the end of stock.
Specification description
Universal dimmer for adjusting all dimmable light sources: resistive, inductive and capacitive. All combinations (R,L,C) are permitted. For inductive loads the maximum load should be reduced by the cosinus phi. Protection from overvoltage, overcurrent, short-circuit and overheating with reactivation and LED indicators. Wide range of control options: contact, analogue 0/10 V or current control 1/10 V. Minimum level programmable between 0 and 30 %. Maximum level programmable between 50% and 100%. Local operation with priority function. Individual temperature measurement on each cooling extrusion. The dimmers are intended for flush-mounting in a plate. The temperature in the plate should not exceed 35 °C. Click-in control interface for service. Software programmable "in current". Extensive assistance for the user and installer: voltage, current, temperature and protection status readings on the front plate Complies with the European standards EN 60669-2-1, EN 60929 and EN 55015.
Wire capacity: the connection terminals for power can contain 2 x 2.5 mm² or 1 x 4 mm² of wire and the control terminals 2 x 1.5 mm² or 1 x 2.5 mm²
Input voltage: 230 Vac ± 10 %, 50 Hz
Minimum load: 100 W/100/ VA
Maximum load 230V-halogen lamps: 200 W
Maximum load electronic transformer: 2760 VA
Maximum load ferromagnetic transformer: 2760 VA
Maximum load bulb: 2760 W
Maximum load toroidal core transformer: 2760 VA
PLC interference suppression: this dimmer is equipped with interference suppression of PLC signals (frequency dips up to 3 Hz). This integrated interference suppression attempts to remove as many interfering signals as possible from the mains in order for most lamps to function optimally, without flashing or humming.
Protection from overload: thermal overload protection with automatic reset function
Short circuit proof: electronic short-circuit protection
Capacity reduction: at an ambient temperature above 35°C the maximum load will gradually decrease (see technical manual)
Connection terminals: 4 connection terminals on top and 6 connection terminals underneath
Marking: CE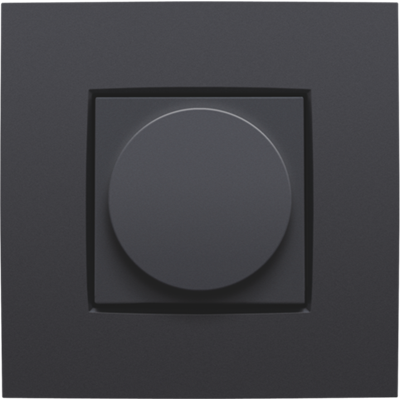 Rotary dimmer for dimmable LED lamps, 4 – 200 W, 2 wire
Rotary dimmer for dimmable LED lamps in trailing edge. It can also dim incandescent lamps, 230Vac Halogen lamps and low voltage halogen lamps with electronic transformer. 2-wire connected.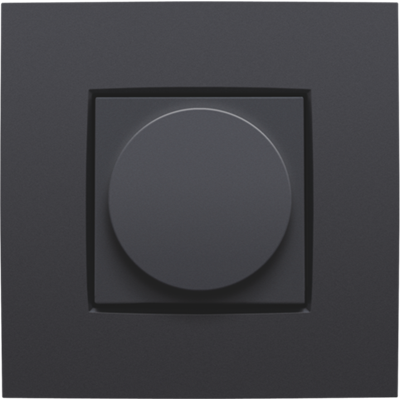 Universal rotary dimmer 5 - 325 W, 3 wire
Dimmer for incandescent lamps, 230 V halogen lamps, all low-voltage halogen lamps, dimmable economy lamps and dimmable LED lamps.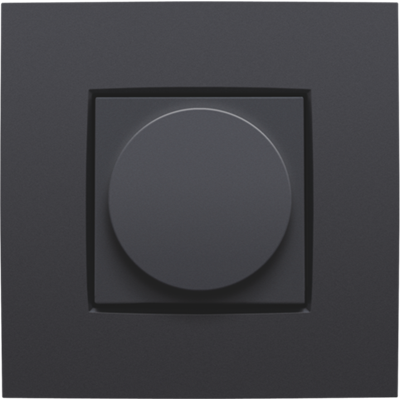 Rotary button extension, 3 wire
Rotary button extension for the universal rotary dimmer with PLC interference suppression 5 - 325 W, 3 wire.