LED strip on roll with 36 RGB LEDs/m
The vivid colours of the RGB LEDs create varied moods in the interior. The LED strip is sold on a 5 m roll. The LED strip can be cut every 16,7 cm, at the markings to install the desired length. The adhesive tape on the back of the LED strip ensures easy mounting. To easily select and dim the colours and to start a colour loop, you use this product in combination with an Wireless 4-channel constant voltage controller (410-00121) and an RGB(W) wall control in 4-button mode (article numbers 410-00002 + xxx-90002)
Product details
This product consists of several components. Below you will find an overview of all the component parts.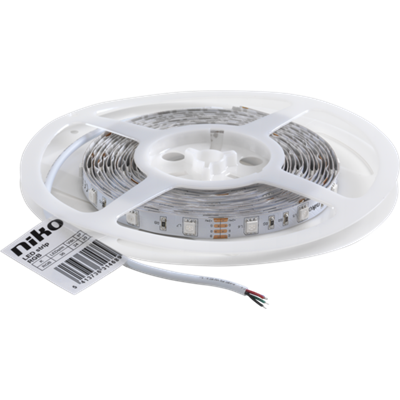 LED strip on roll with 36 RGB LEDs/m
The vivid colours of the RGB LEDs create varied moods in the interior. The LED strip contains 36 RGB LEDs (format 5050) per meter. The LED strip is sold on a 5 m roll. The LED strip can be cut every 16,7 cm, allowing installation of the required length. This LED strip is easy to mount using the adhesive tape on the back of the strip. To easily select and dim the colours and to start a colour loop, you use this product in combination with an RGB(W) controller (340-00120 or 340-00121) and an RGB(W) wall control (1XX-90001).
Specification description
LED strip on roll with 36 RGB LEDs/m. The LEDs provide the optimum atmosphere with their excellent colour rendition and light output. The LED strip is sold in a 5 m roll and can be cut to the required length for installation along the dotted lines. The adhesive tape on the back of the LED strip makes it easy to mount.
Number of leds: 36 RGB LEDs per metre
Colour temperature: RGB
Colour rendition index (CRI): > 80
Cutting distance: cutting interval: 16.7 cm
LED format: 5050
Power consumption: 8.64 W per metre
Protection degree: IP20
Input voltage: 24 Vdc ± 10 %
Minimum ambient temperature: -20 °C
Maximum ambient temperature: +45 °C
Dimensions (HxWxD): 10 x 5000 mm
Marking: CE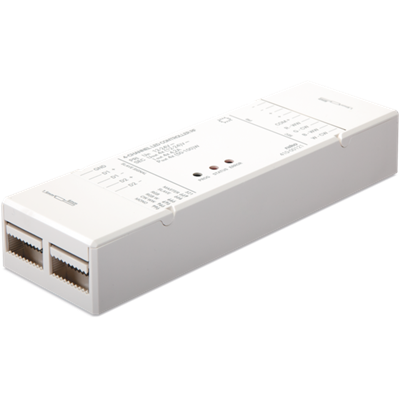 Wireless 4-channel constant voltage controller
The 4-channel controller is suitable for controlling LED strips (constant voltage, common anode) from 12 to 24 Vdc. The controller has a maximum power of 50W per channel for 12Vdc LED strips and of 100W per channel for 24Vdc LED strips. The controller can control the following types of LED strips: RGB, RGBW, tunable white and monochrome. We recommend using the specifically designed RGB(W) wall controller in 4-button mode (article numbers 410-00002 + xxx-90002) for controlling the colour LED strips. Replaces 340-00120 & 340-00121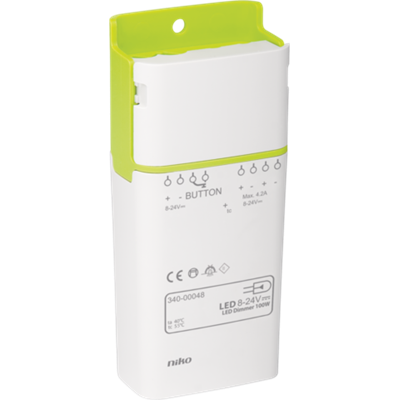 PWM dimmer, 100 W
The PWM dimmer will be used to dim Niko LED strips with monochrome LEDs, up to a maximum capacity of 100 W. The light intensity is dimmed linearly by using an NO push button. Press the NO push button briefly for switching on and off, and hold it down for brightening and dimming the light. Replaces 340-10027 and 340-10028.
Power supply for LED strips, 24 Vdc - 60 W - IP67
The 60W power supply is suitable for supplying power to LED strips. This power supply has an IP67 protection degree, is dust-free and waterjet proof. As a result, it is extremely well-suited for installation in a damp room, such as a bathroom or kitchen. The cables are fixed with resin.