LED strip on roll with 120 RGBW LEDs/m (60 RGB + 60 warm white LEDs)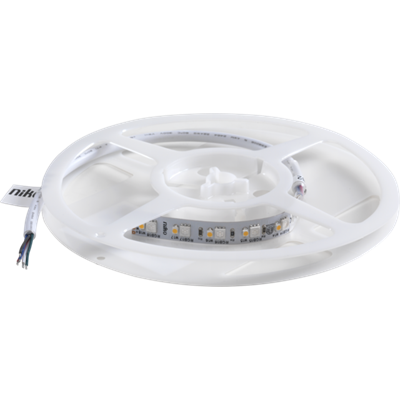 Description
The vivid colours of the RGB LEDs create varied moods in the interior. The combination with warm white LEDs adds a whole pallet of soft and stylish colours. And, in addition, you have all white tones at your disposal. The LED strip contains 60 RGB LEDs (format 5050) and 60 warm white LEDs (format 3528) per meter. The LED strip is sold on a 5 m roll. The LED strip can be cut every 10 cm, allowing installation of the required length. This LED strip is easy to mount using the adhesive tape on the back of the strip. To easily select and dim the colours and white tones and to start a colour loop, you use this product in combination with an RGB(W) controller (340-00120 or 340-00121) and an RGB(W) wall control (1XX-90001). In combination with the wide architectural aluminium profile (340-12007) and the milky white cover (340-13008), you create uniform light lines without visible points of light.
Specification description
LED strip on roll with 120 RGBW LEDs/m (60 RGB + 60 warm white LEDs). The LEDs provide the optimum atmosphere with their excellent colour rendition and light output. The LED strip is sold in a 5 m roll and can be cut to the required length for installation along the dotted lines. The adhesive tape on the back of the LED strip makes it easy to mount.
Number of leds: 120 LEDs (60 RGB and 60 warm white LEDs)
Colour temperature: RGBW
Colour rendition index (CRI): > 80
Cutting distance: cutting interval: 10 cm
LED format: 3528
Power consumption: 19.2 W per metre (14.4 W RGB + 4.8 W warm white)
Protection degree: IP20
Input voltage: 24 Vdc ± 10 %
Minimum ambient temperature: -20 °C
Maximum ambient temperature: +45 °C
Dimensions (HxWxD): 12 x 5000 mm
Marking: CE
The article above is part of this product: