External audio unit for surface mounting with two columns of bell push buttons, 20 mm
The solid unit for surface mounting, which is completely finished in up to 7 mm thick aluminium, is equipped with an adjustable microphone and loudspeaker as well as text fields for personalisation provided with vandal-proof plexiglas (5 mm thick). The maintenance-free, gold-plated push-button contacts guarantee a long lifespan. The push buttons can also be used for switching the light. The unit for surface mounting has two columns of bell push buttons, and is therefore suitable for large housing complexes. This device is available with maximum 92 bell push buttons by means of the extension modules. The extension module has the same finish as the external unit. Since the module is opened at the bottom, it has to be mounted sidelong on the external unit.
Product details
This product consists of several components. Below you will find an overview of all the component parts.
Accessories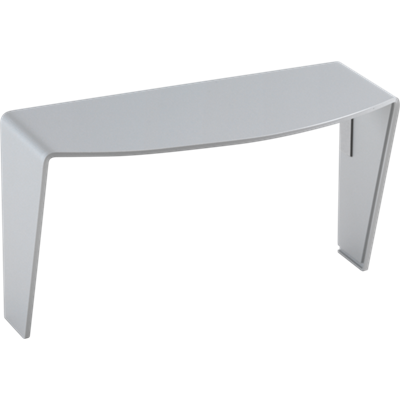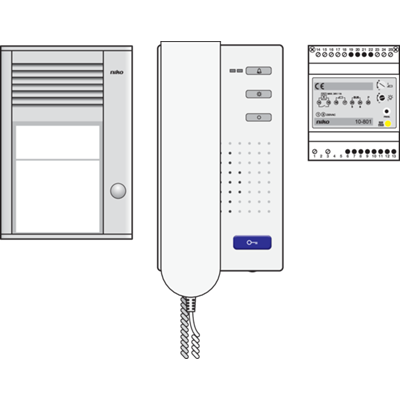 Audio kit with 1 internal unit with receiver, surface-mounting
This audio kit with two-wire technology consists of: • one surface-mounting external audio unit with one bell push button (10-151) • one compact intercom for surface-mounting (10-505) • one power supply 20 (10-801) The external unit is equipped with an adjustable microphone and loudspeaker and illuminated text field for personalisation. The ring volume can be adjusted and switched on and off on the internal unit. The classic receiver is used to communicate with the visitor. The door lock can be directly connected to the power supply. The kit is pre-programmed so that all you have to do is connect it. The kit can be expanded with: • one internal audio unit (10-525) or one compact intercom for surface mounting (10-505) • one external audio unit • one DIN rail relay (10-831) for controlling an extra gate or enclosure • one table-top support (10-509) for the intercom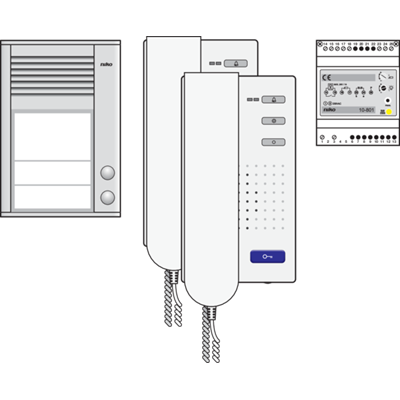 Audio kit with 2 internal units with receiver, surface-mounting
This audio kit with two-wire technology consists of: • one surface-mounting external audio unit with two bell push buttons (10-152) • two compact intercoms for surface-mounting (10-505) • a power supply 20 (10-801) The external unit is equipped with an adjustable microphone and loudspeaker and illuminated text field for personalisation. The ring volume can be adjusted and switched on and off on the internal units. The classic receiver is used to communicate with the visitor. The door lock can be directly connected to the power supply. The kit is pre-programmed so that all you have to do is connect it. The kit can be expanded with: • two compact intercoms for surface mounting (10-505) • one external audio unit • one DIN rail relay (10-831) for controlling an extra gate or enclosure • two table-top supports (10-509) for the intercoms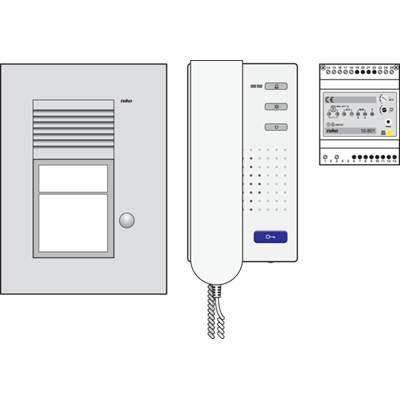 Audio kit with 1 internal unit with receiver, flush-mounting
This audio kit with two-wire technology consists of: • one flush-mounting external audio unit with one bell push button (10-201) • one compact intercom for surface-mounting (10-505) • one power supply 20 (10-801) The external unit is equipped with an adjustable microphone and loudspeaker and illuminated text field for personalisation. The ring volume can be adjusted and switched on and off on the internal unit. The classic receiver is used to communicate with the visitor. The door lock can be directly connected to the power supply. The kit is pre-programmed so that all you have to do is connect it. The kit can be expanded with: • one compact intercom for surface mounting (10-505) • one external audio unit • one DIN rail relay (10-831) for controlling an extra gate or enclosure • one table-top support (10-509) for the intercom