Compact intercom for surface-mounting with extension, white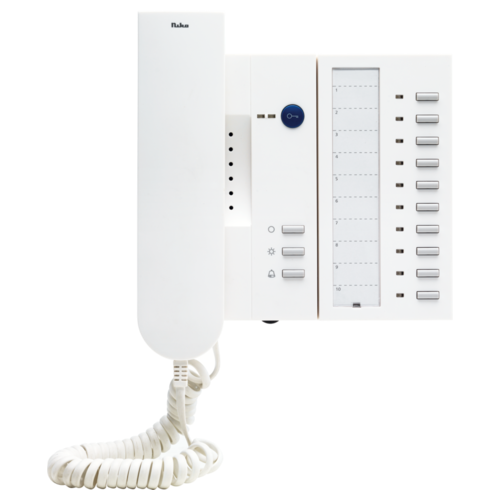 Description
This device consists of a compact surface-mounting telephone 10-511 and an expansion module. The expansion module has 10 free function keys with feedback LEDs and a name plate. You can assign one of the following functions to the free function keys: communication with an external unit and switching of the door opener relay, internal call, contact-status indication of the bus indicator module (10-840), (de)activation of call diversion or transmission of a control function.
Specification description
Compact intercom for surface-mounting with extension, white.
Function: surface-mounting / table-mounting (using a stand for table mounting)
2-way conversations
housing made of anti-static and recyclable plastic
blue door opener key with possibility to set a floor level door opening function
button to switch the lighting on/off
1 control button: equipped with a control function / possibility to set a function of your choice: internal call, automatic door opener, call diversion.
10 control buttons on the extension: equipped with control function / possibility to set a function of your choice: internal call, call from external unit, open door, call diversion, display of sensor status with binary input, variable control function (on / off)
a selection of 13 different ring tones
acoustic and visual call differentiation between apartment door, front door and internal call
acoustic call differentiation for 2 doors
volume can be set manually
visual display when the ringtone is switched off
possibility for 1 parallel call
visual display of a call (brief) via green LED
busy line displayed in the case of an existing connection
block listen in and automatic call termination
audio and video internal units can be combined in one system.
Wiring technique: 3-wire technology required
Input current at rest: I(a) = 0.5 mA, I(P) = 20 mA in standby
Maximum input current: I(Pmax) = 90 mA
Finishing colour: white
Material upperframe: ABS
The article above is part of this product: