Presence or absence detector 360°, 230 V, 10 A , one channel, to switch lights on and off (white)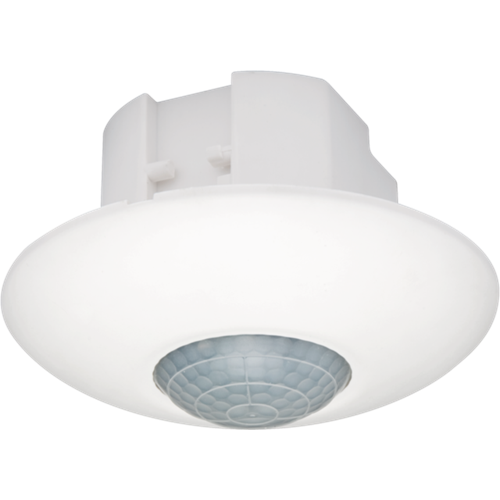 Description
This 1-channel presence and absence detector is suitable for flush-mounting in the ceiling and is used for switching indoor lighting. This presence detector has a circular detection range of up to 12 m in diameter. The device has a built-in light sensor and switches the lighting on and off automatically. Manual operation is also possible using the N.O. push button (to be ordered separately). After the pre-set time delay, the light is switched off automatically. The device has an IP20 protection degree and conforms to the European directive, EN 60669-2-1, for EMC and safety.
Finishing colour: white.
Specification description
Presence or absence detector 360°, 230 V, 10 A , one channel, to switch lights on and off (white).
detector 350-20056
Input voltage: 230 Vac ± 10 %, 50 Hz
Detector output: 230 V (ON/OFF)
Number of channels: 1 channel
Light intensity range: 30 lux – 2000 lux
Switch-off delay: 5 s – 30 min
Detection angle: 360 °
Detection range (PIR): circle, 8 – 12 m
Ambient temperature: -5 – +50 °C
Mounting method: flush-mounting or surface-mounting
Mounting height: 25 – 4 m
Relay contact 1: NO. (max. 10 A), light- and motion-sensitive
Maximum load incandescent and halogen lamps (cosφ=1): 2300 W
Maximum load fluorescent lamps (cosφ ≥ 0,5): 1200 VA
Maximum load low voltage halogen lamps: 1200 W
Maximum load economy lamps (CFLi): 350 W
Maximum load LED lamps 230 V: 350 W
Maximum capacitive load: 140 µF
Maximum switching current: 165 A/20 ms – 800 A/200 µs
Dimensions (HxWxD): 90 x 90 x 56 mm
Protection degree: IP20
Protection class: Class II device
Marking: CE
The article above is part of this product: