Outdoor motion detector, KNX, 16 m, 360°, for surface mounting, white
Reference code
350-213001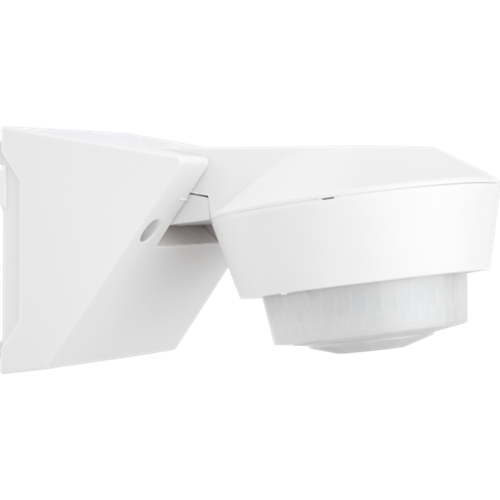 Description
The outdoor motion detector with five channels is suitable for KNX systems. It can be surface mounted on walls or ceilings and is easy to install thanks to the plug-in terminals. The detector can also be used for indoor applications. In conformity with the European directive for EMC and safety EN 60669-2-1. Finishing colour: white.
Specification description
Outdoor motion detector, KNX, 16 m, 360°, for surface mounting, white.
KNX motion detector for outdoor use
Also suitable for indoor daylight control, HVAC and alarm functionalities
Wall or ceiling mounting
Corner mounting bracket (available as accessory)
Easy installation with plug-in terminals
Adjustable sensor head - right/left 90°, up 90°, down 40°
Two sensitivity zones: frontal and below
Pulse algorithm prevents false triggering by trees or other objects
Master/secondary configuration
2 channels for on/off or dimming
2 channels for HVAC
1 channel for alarm
Two separate light levels (orientation light level and normal light level)
Commissioning via ETS software or IR-remote control (available as accessory)
Technical data
Input voltage: 30 Vdc via KNX-bus
Detector output: KNX
Maximum current consumption: 10 mA
Number of channels: 5 channels
Light intensity range: 5 lux – 2000 lux, ∞
Switch-off delay: 5 s – 1 h, ∞
Activation delay: 1 s
Detection angle: 360 °
Detection range (PIR): ø 32 m from a height of 2.5 m
Ambient temperature: -20 – +50 °C
Mounting method: surface mounting
Mounting height: 2 – 3 m
Wire capacity
Colour: white (RAL 9010)
Dimensions (HxWxD): 84 x 90 x 150 mm
Protection degree: IP55
Protection class: Class II device
Marking: CE
The article above is part of this product: