At Niko, we do our utmost to test our products so that you can install them smoothly. Even if the lighting on the site leaves something to be desired or if you are working in the freezing cold in gloves. And because you as an installer know the limitations of a traditional electrical installation only too well, Niko makes every effort to ensure that Niko Home Control is easy to install. Every minute counts, whether you need to set up an installation in a luxurious office building or in a cosy flat.
Quality in your hands. And suddenly everything goes more smoothly.
Customers often set strict deadlines. Then there is nothing as reassuring as having reliable equipment that you can install quickly.
The smallest of things can use up - or save - valuable time. That's why we focus on comfort when developing every one of our products. Niko switching material puts an end to all that prying and bending. Every function is connected on just one side and it tells you on the base which cable belongs where, so that you are sure to get it right. The new Niko plug-in terminals make life even easier. Furthermore, all Niko products fit together perfectly: you can finish the entire installation with just one screwdriver, even if it involves home automation. The shape of the bases is also proof of the fact that every detail is taken into account. Does your customer want two socket outlets next to each other? Our bases simply click together. And this means you can be confident that your socket outlets are aligned.
Gaining time and ease of installation are the top priorities at Niko. This is something you notice. We did the test under the watchful eye of a legal enforcement agent. We got ten installers to install different brands of wall sockets and switches. What was the result? Niko's equipment is on average 30% faster than the competition. When you are using a quality product, everything suddenly goes more smoothly and you have more time left to help other customers and earn more. Or just enjoy a well-earned rest.
Ground-breaking ease of installation
Extra dimmers, presence simulation, energy management, video unit and more. With Niko Home Control, there is plenty of scope for your customer. But that doesn't mean that the installation costs you extra effort. On the contrary.
Niko Home Control offers a lot of added value for your customer, but above all it is fast and easy to install. All thanks to these revolutionary components. For instance, the non-polarised, two-wire cabling which means that all you need to do is attach the two wires to the terminal, without any risk of incorrect connection. Or the touch screen that you can connect with one cable. The zinc-coated metal bridges which only require one flush mounting box, even for multiple controls. Furthermore, you have the option to add wireless controls. All without any cutting or breaking. Finally, ease of installation means limited cabling in the cabinet. All modules in one row are interconnected via a sliding contact. You only need to connect the various rows via the rail coupler using the four wires from the bus and power supply. And you do not need to follow a fixed wiring diagram.
It is obvious that an installation should go smoothly. However, Niko thinks one step ahead, by making all aspects of this as easy as possible for you. We know that you are responsible for a lot of other things, such as estimated costs and ordering materials to providing specifications. You can find all the information that you need right away on our website. Niko thinks with you. At every stage of the project.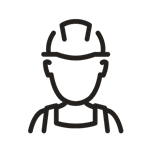 "Plug-in terminals. It's one, two, three and you're on to the next one. They save you hours and hours, especially in a big project."
– Marc Mus from @Wire BVBA

"In the past, two wires were secured under a single screw. Sometimes one would come loose and you would have to start all over again. Now you can simply click the wires separately into the plug-in terminals. That's so much handier."
– Geert Vanhove