Wireless 4-channel constant voltage controller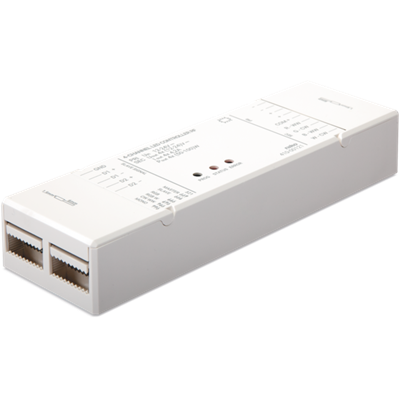 The 4-channel controller is suitable for controlling LED strips (constant voltage, common anode) from 12 to 24 Vdc. The controller has a maximum power of 50W per channel for 12Vdc LED strips and of 100W per channel for 24Vdc LED strips. The controller can control the following types of LED strips: RGB, RGBW, tunable white and monochrome. We recommend using the specifically designed RGB(W) wall controller in 4-button mode (article numbers 410-00002 + xxx-90002) for controlling the colour LED strips.
Replaces 340-00120 & 340-00121
Produktdetaljer
Dette produkt består af flere komponenter. Herunder er en oversigt over de forskellige komponenter.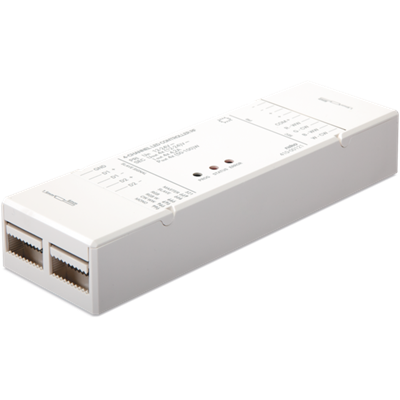 Overensstemmelseserklæring
Konstant 4-channel constant voltage LED controller, wireless
4-kanals controlleren er egnet til styring af LED-strimler (konstant spænding, almindelig anode) fra 12 til 24 Vdc. Regulatoren har en maksimal effekt på 50W pr. kanal til 12Vdc LED-strimler og 100W pr. kanal til 24Vdc LED-bånd. Controlleren kan styre følgende typer LED-strimler: RGB, RGBW, justerbar hvid og monokrom. Vi anbefaler brug af den særlige væg-controller RGB(W) med 4-knapstilstand (typenummer 410-00002 + xxx-90002) til at styre LED-strimlernes farve.
Erstatter 340-00120 & 340-00121
Specifikationer
Input voltage: 12-24V DC
Number of LED channels: 4 (R-WW, G-CW, B-WW, W-CW), not individually controlled
LED strips type: RGB(W), tunable white, monochrome
LED strip setting method: DIP switch
LED control type: constant voltage source, common anode
Output voltage: 12-24 Vdc per channel
Output current: max. 4.2 A per channel
Output power: max. 50W (12 Vdc) or 100 W (24 Vdc) per channel
Master/slave connection: wired
Master/slave mode setting: DIP switch
Maximum number of slaves per master: 9
Wireless system according to the Easywave protocol
Compatible with wireless controls according to the Easywave protocol
Supports 1, 2, and 4-button control modes according to the Easywave protocol
Specific 4-button LED control: 410-00002 + xxx-90002
Number of wireless controls per master: max. 15
Programming method: push button and LED feedback
Frequency: 868 MHz
Maximum radio frequency power: 10 dBm
Transmission range: ± 25 m indoors, 100 m in open spaces
Primary connection: 1 x 2.5 mm² of 2 x 1.5 mm²
Secondary connection: 1 x 1.5 mm²
Dimensions: 116 x 52 x 32 mm (HxWxD)
Minimum drill diameter: minimum 60 mm
Minimum flush-mounting height in suspended ceiling: 170 mm
Attachment: 4 screw aperture (diameter 4 mm)
Protection degree: IP20
Maximum ambient temperature: 45 °C
Marking: CE